Image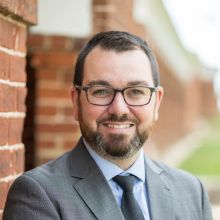 Timothy Troy
Administrative Generalist
Bio
Timothy Troy is the Administrative Generalist for UVA Global and the primary assistant to the Vice Provost for Global Affairs Ambassador Stephen Mull. Tim focuses primarily on project management, event coordination, and scheduling. He also serves as Executive Secretary and principal budget and finance manager to the Global Classrooms program and the grants committee for the Center for Global Inquiry + Innovation.
Prior to joining UVA's Global Affairs Office, Timothy lived in Boston, MA for several years, where he most recently worked at Northeastern University in their Global Experience Office as a Program Coordinator for first-semester study abroad programs. He also earned his master's degree from NU in Leadership Studies.
In his spare time, Tim enjoys hiking in Shenandoah National Park(especially with his yellow labrador Bowie), board games, and live music.