Ambassador Stephen D. Mull
Image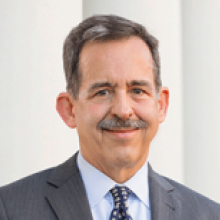 Ambassador Stephen D. Mull
Vice Provost for Global Affairs
Bio
Ambassador Stephen D. Mull is Vice Provost for Global Affairs at the University of Virginia. In this role he is the primary lead on global relations at the University, responsible for developing a strategic vision, designing outreach, and overseeing international activities. Steve is responsible for overseeing institutional development of global partnerships and developing a wide array of services, programs, experiences, and strategic partnerships that promote global imagination within the university community.
Mull has served in a broad range of U.S. national security positions, most recently as Acting Under Secretary for Political Affairs at the U.S. Department of State, working as the day-to-day manager of overall regional and bilateral policy issues, and overseeing the bureaus for Africa, East Asia and the Pacific, Europe and Eurasia, the Near East, South and Central Asia, the Western Hemisphere, and International Organizations. He served as Lead Coordinator for Iran Nuclear Implementation from August 2015 until August 2017, in which capacity he led U.S. government interagency efforts and diplomacy to implement the Joint Comprehensive Plan of Action (JCPOA). Mull was the U.S. Ambassador to the Republic of Poland from 2012 until 2015 and U.S. Ambassador to the Republic of Lithuania from 2003 to 2006. He has been both Executive Secretary of the State Department and the Senior Advisor to Under Secretary of State for Political Affairs. He has also recently served as Resident Senior Fellow at Georgetown University's Institute for the Study of Diplomacy.
Ambassador Mull is the recipient of the Presidential Distinguished Service Award, Secretary of State's Distinguished Service Award, two Presidential Meritorious Service Awards, two Distinguished Honor Awards, Baker-Wilkins Award for Outstanding Deputy Chief of Mission, two Superior Honor Awards, and more than a dozen Senior Foreign Service performance awards.  He joined the Foreign Service in March 1982, and holds the personal rank of Career Ambassador, the highest rank in the U.S. Foreign Service.  He is a 1980 graduate of Georgetown University's School of Foreign Service.